We are excited to share that our Aqua classes are returning! As capital works continue at Hurstville Aquatic Leisure Centre we have temporarily moved our sessions to Peakhurst West Pool.
Our change in location is only 5km down the road and allows our Aqua classes to resume as of Saturday, 1st August 2020.
You can now book your spot into our Aqua classes up to 7 days in advance through the BlueFit Health Club app.
If your membership is currently on suspension and you would like to return your membership will automatically be reactivated when you next attend the facility.
Peakhurst West Swimming Pool is located at Ogilvy St, Peakhurst NSW 2210. Click here to get directions.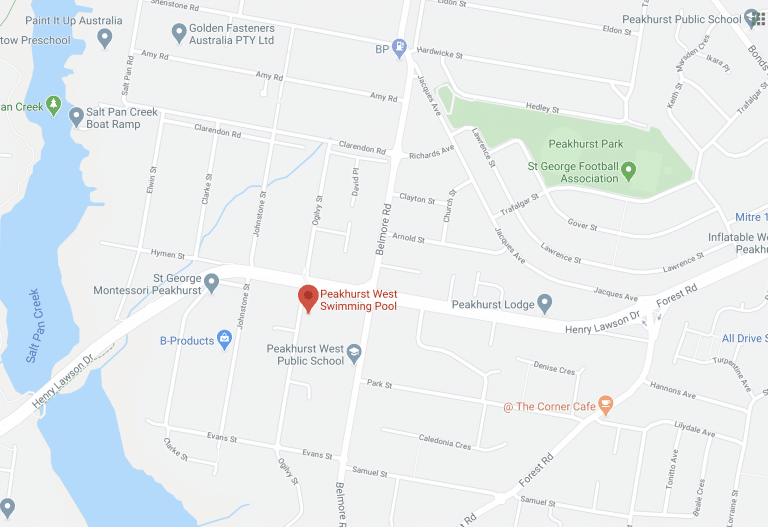 Kids Sports Returns in July
With restrictions starting to ease we are excited to resume kids sports lessons commencing Term 3 – Monday 20th July 2020. This includes FlipIt Gymnastics, Strike Football and Swish Basketball. We will also be running our school holidays July camps.
We can't wait to see everyone soon and to continue offering essential kids sports lessons to our community! Click below to find out more about our camps. 
Kids Sports Covid 19 Reopening Measures:
To ensure the health and safety for all our customers and staff there are a number of measures in place. Click on the sport below to find out more information.
We are excited to finally announce the re-opening of the Health Club at Hurstville Aquatic Centre.
All members will have access to the gym from Saturday 13th June. Inline with state government restrictions the following health and hygiene measures in place:
Group fitness classes will be reduced to 20 people only (this has now changed from 10 due to recent updates).
The timetable will be released this Friday with classes resuming Monday 15th June
All group fitness bookings must be made through the BlueFit Health Club app up to 7 days in advance which you can download by clicking the link below
You must train with a towel and wipe down equipment after use
Changing room facilities and water fountains will be closed
Strict social distancing & hygiene measures must be adhered to
The creche will remain closed
For more information about the measures now in place please see below to view our re-open video.
The direct debits for perpetual members will recommence on Friday 19th June. For upfront members, we have changed your membership expiry date to account for the days the facility was closed.

The facility will be available for Health Club members only for the time being, at normal opening hours with the exception of a 3pm closure on public holidays . If you're not ready to come back to the gym just yet, the Bfit@Home platform remains available to you without charge and includes live classes & at-home workouts. For those who would like to continue their complimentary suspension please click here.
The aquatic area remains closed at the moment as we investigate further capital works in this area. More information about the aquatic facilities re-opening will be provided as things progress.
Leisure facilities play an important role in the health and wellbeing of the community and we're excited to have them re-opening.
See you soon!
To members and patrons,
We are closely monitoring the new state restrictions and how that impacts our centre. We will send an update soon. Thank you for your patience, until then, stay safe!
FACILITY UPDATE
Due to the new easing of restrictions by the state Government, we are excited to offer our outdoor Boot Camp sessions!
Join our $39, 4-week outdoor training program starting next Tuesday 26th May. Each session will adhere to strict health and safety measures in line with State Government guidelines.
Facility Closure
As of 12pm Monday 23rd March, Hurstville Aquatic Leisure Centre will close until further notice. All class payments and memberships will be put on hold and visit passes will be extended by 12 months. We'd like to thank the amazing team that bring you the services you love, this will be a difficult time for them and their families. We look forward to seeing you all again when we reopen.
BlueFit Kids OHSC services and Bus Hub will remain until the end of the school term.
Spa, Sauna and Steam Room Closures
Our spa, sauna and steam rooms will be closed from close of business tonight 20/03/2020.
We are unable to enforce social distancing in these areas and apologise for any inconveniences caused.
Our swimming pools are still safe, functional and available for use.
WEDNESDAY 18th march 2020
Extension of Visit Pass Expiry:
Dear Patrons,
During these unprecedented times involving coronavirus (COVID-19), we understand that many of you may be choosing to self-isolate and therefore unable to attend the facility.
To help make this time easier for you and ensure your visits don't go to waste, we have made the decision to extend the visit pass expiry on current passes by one year.
All extensions will automatically be applied to your account.
We look forward to seeing you at the facility soon!
Stay Safe.
We believe that swimming is an essential skill for all Australian's and the government's decision to keep our schools open is evidence that it is safe to continue with our daily routines, provided we exercise appropriate precautions. This includes:
Shower before using the pools
Practice cough etiquette (keep away from other people, cover coughs and sneezes with disposable tissues or clothing, and clean your hands.)
Avoid close contact with anyone with cold or flu-like symptoms.
Not attending the facility if you have flu-like symptoms
Our facilities will remain open for the foreseeable future and we want to ensure our lessons remain a fun and safe environment for our staff and students.
We understand some families will want to avoid attending temporarily, so we have decided to update our make up policy. We have updated our makeup lesson policy to allow for more makeups in a period and longer notice period on an absence. Further detail can be found below, including login details for the parent portal.
It is important to note that these changes are temporary as the situation seems to be changing daily. 

BlueFit Swimming has safety as it's first priority and the employment of our thousands of staff close behind. We ask that families chose to process these additional make-up lessons rather than cancel their lessons. Swimming remains an essential skill and the risks remain low.
Parent Portal Login Details

Username: *|EMAIL|*
Temporary Password: 1234
(If you have logged in to the portal previously the password will be whatever you changed it to)
If you have any issues logging in to the portal please go to "forgot password" and try to reset it. If this does not work please email support@bluefit.com.au
Dear members & patrons, 
We understand that with so much information relating to the coronavirus (COVID-19)  going around in the media, you may have concerns about how the situation is being managed at Hurstville Aquatic Leisure Centre, as a large public facility.
Please understand that the safety, health and well-being of our customers and staff is always our top priority. Our centre continues to be a public facility and workplace that remains safe to attend. 
At this point we will be remaining open during our regular hours and classes will not be impacted. 
We want you to feel confident when you're using our facilities. We have and will continue to put in place a number of proactive measures to protect customers and staff well-being:
Hand sanitiser available throughout the facility.
Thorough cleaning and sanitisation practices throughout the centre
Multilingual signage relating to personal hygiene in key areas.
If you are returning from any of the affected countries, you should follow the advice of the Australian Government's Department of Health as set out on their website.
Regular updates will be placed on this website. 
Latest Update: No staff or customers have been identified as having the virus. The facility remains safe to attend. 


Swimming:
Chlorinated water has a long documented history of preventing the spread of viruses, however it is important to maintain good personal hygiene at all times. This includes:
Showering before using the facilities
Washing hands after using changing facilities.
Health Club:
We believe that regular exercise is important to maintain a healthy life and support proper immune function. It is therefore important to provide you with a safe and clean training environment. 
In addition adopting a thorough cleaning and sanitising regime within the facility, we also encourage you to:
Thoroughly wipe down all gym equipment after use.
Always use a towel while training.
Practice good hygiene and wash hands frequently.
Make use of the available wipes and hand sanitiser.
Outside The Pool:
It's important that we all practice safe hygiene practices during this time. This includes:
Cleaning your hands with soap and water for 20 seconds, or an alcohol-based hand rub.
Covering your nose and mouth when coughing and sneezing with tissue or a flexed elbow
Avoid close contact with anyone with cold or flu-like symptoms.
Practice cough etiquette (keep away from other people, cover coughs and sneezes with disposable tissues or clothing, and clean your hands.)
Respect Those Around You:
We believe our staff and the communities we service are our family and we hope that everyone continues to behave and treat each other with the respect and dignity they deserve. 
What Next?
We are monitoring the situation closely, and should it be necessary to provide members with further communication, we will contact you via email, and if necessary via SMS. We also encourage casual users to visit our website regularly.
A detailed FAQ is available below. If you have any further questions please contact us via phone at 02 9585 9600 or email at hurstville@bluefit.com.au.